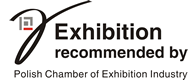 04.08.2017
In the period of 24-26 April 2018, SAWO fair will take place at the Poznań International Fair and will be held for the 24th time.
28.07.2017
International Fair of Work Protection, Fire-Fighting and Rescue Equipment SAWO – well-known and highly regarded in Poland and abroad - will take place from 24-26 April 2018 in Poznań. Please, familiarize yourself with the participating offer in this event. It is worth to be here! In 2018 SAWO will be held for the 24th time.
21.07.2017
Order your space and other services through the online platform EXHIBITOR ZONE! This tool gives you full control over participation in the fair.
More news
---

Next edition of SAWO Fair - 24-26.04.2018, Poznań, Poland