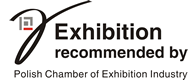 PARTICIPANTS SAWO 2018:

14.05.2018
We encourage you to read the final report of SAWO 2018.
26.04.2018
Over 250 market leaders representing the occupational health, fire and rescue sectors presented at SAWO 2018 the latest technological and product solutions applied in the field of work and personal protection.
25.04.2018
If you want to remind yourself the greatest three days at SAWO FAIR 2018 or to know, how did this edition look like, please check out the PHOTO GALLERY.
More news
---

Next edition of SAWO Fair - 24-26.04.2018, Poznań, Poland