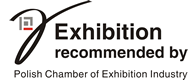 28.11.2016
According to the survey carried out among the visitors, 92% were satisfied with this edition of the SAWO fair and 90% would recommend the event to their friends.
07.08.2016
We kindly invite you to read the latest issue of "Poznań Fair Magazine". We invite you particulary to read about the GOLDEN MARKETING CONFERENCE, which take place in November. The main topic of this year conference will be neuromarketing, innovation and personalization. PMT readers' interested in participation in the conference can take adventage of special discount.
17.06.2016
We are pleased to inform, that the decision of the resolution "Polish Chamber of Exhibition Industry" (PIPT) - SAWO International Fair of Work Protection, Fire-Fighting and Rescue Equipment received Certificate "Exhibition recommended by Polish Chamber of Exhibition Industry".
More news
---

.